Description
Notepad design Inclusions:
Custom Size
Single sided
Print-ready PDF
With or without crop marks (two separate files)
Full bleed if required
Up to two stock images
Three rounds of revisions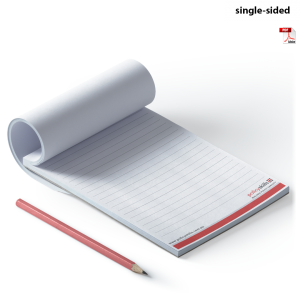 Notepads or notebooks are great for promotional items. They are simple in design and contain lines for writing. Even though they are simple, these can be branded to match your meeting, workshop or contain contact details to use for purely promotional purposes. The spacing of the lines has been considered to allow for comfortable writing. These lines are not the same on all notepad designs. Some are dotted or lined, depending on the individual brand.
To consider:
These types of notebooks are usually for writing on during a meeting or conference. So normally the page count is low. However, if using for promotional purposes the page count can be higher. This you can discuss with a printer who will make them for you.
If you want to reduce your printing footprint on these there are some things you can do. Firstly, opt for no bleed. This will mean that paper and ink are saved. Lakazdi will design a good looking notepad with this in mind. Secondly, design in a way that means that they can be repurposed. In other words, if you don't make the booklet to specific, you can get a higher print run (and save money) then use them for a variety of purposes in the future.
Size matters:
Printers will make these types of notepads for you in whatever size you need. Some of the standard sizes are A5, A6 and DL. But since the printer is cutting to size, any size can be made. Consider what the purpose is.  For example, when used as tear off with-compliment slips (or similar) DL size is suitable. For writing on at a conference A5 is best. If you are making a To-Do or Shopping list (or similar) A6 is fine.
Lakazdi will always ensure all content looks its best. Lakazdi guarantees fonts are large enough to read according to the page size given at the start. Please note: if you change the size by shrinking, there is no guarantee that the notepad will still be legible at the new size.
Marketing and content strategy:
Lakazdi can provide assistance in working through your marketing objectives and goals with you. We can then determine your marketing strategy and what content this requires. Extra charge. Please contact today with your requirements.